"Mum-mum, Easter is so much fun!" That's what Eliot told me the other day. Last week we went to the Primary's Easter party where he and Peter hunted for chocolate eggs and sailed paper boats. The party-planners had intended for the children to race the boats down the little stream, but the current wasn't very strong and most of the children lost interest. Not Eliot. He sailed at least four boats that I folded with him and he probably would have sailed more except that we had to go home and have lunch. He and Peter had a wonderful time hunting for chocolate eggs and when they felt they'd found enough they plopped down in the shade to sample their loot.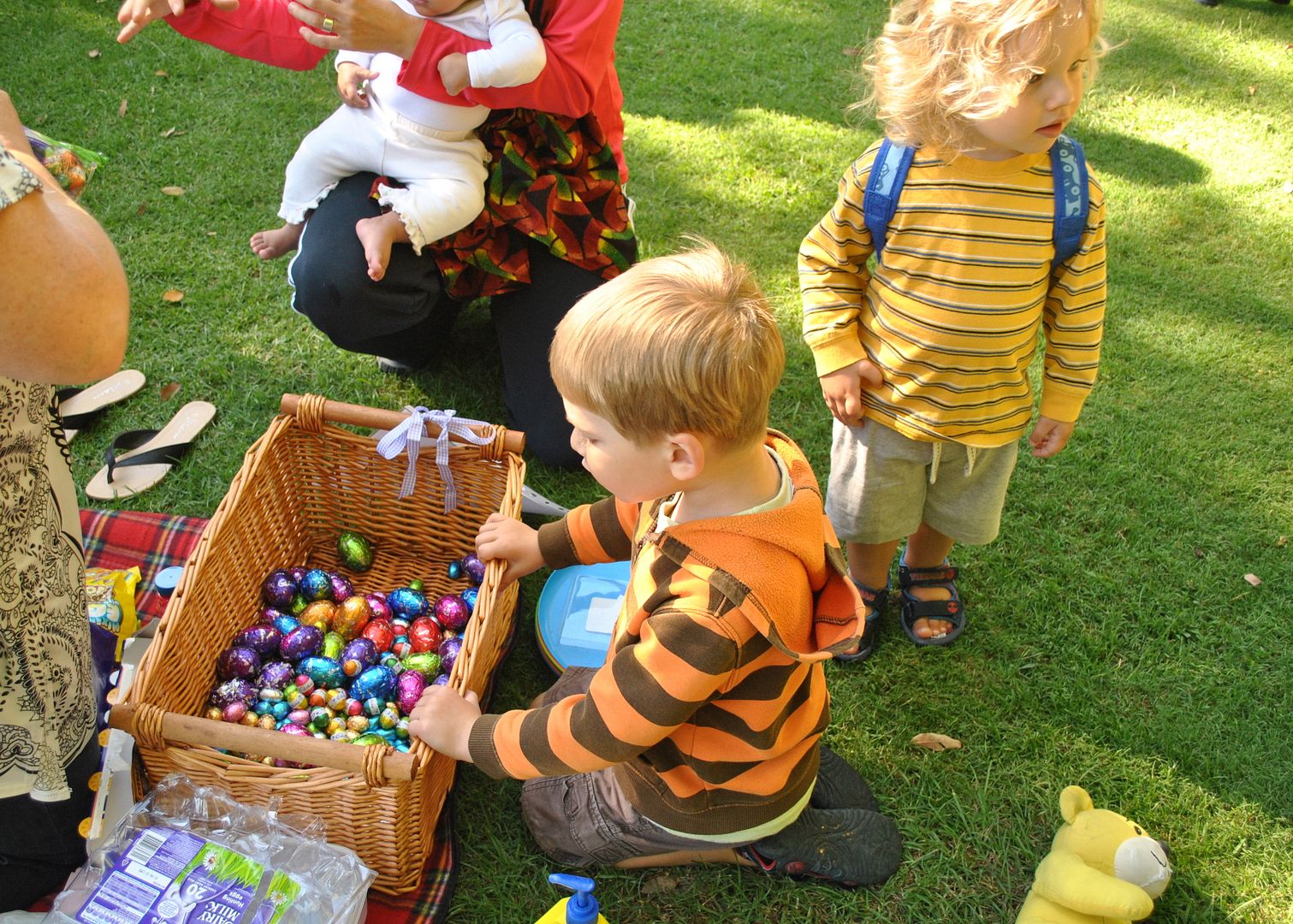 On Easter Sunday Eliot and Peter woke up at 6:00 am, as usual, and were ready to go. We had our oatmeal first, then came the scavenger hunt. Both boys got involved this year and they hunted here and there for each plastic egg that held the next clue until finally uncovering the stash of chocolate and other treats. Their blood sugar was unusually high going in to church, but in spite of that they behaved very well and enjoyed listening to all of the music.
Enjoying their treats. I love the crossed ankles.
Playing with their new stickers. Can you see the road that Eliot drew for his car stickers? Peter quickly got the hang of peeling off his Thomas stickers and enjoyed decorating his paper with them.
That evening we finished off the day with a supper of roast chicken with mashed potatoes and gravy, peas and carrots, and hot cross buns. For dessert we ate the ears off of a large chocolate bunny. The boys had no problem going to sleep that night.
Eliot and I tried our hands at making lemon macarons for Easter. He helped mix, sift, pour, and sample. It was a drawn out process, but fun to make something special for the day.
I've heard it said that without Easter there'd be no Christmas. That without the life, death, and resurrection that we commemorate at Easter, the babe in Bethlehem would have just been another baby like so many others. I'm thankful that he was not just another baby like so many others. And I'm thankful for the promise of hope and renewal that Easter brings.
We hope you all had a very Happy Easter!