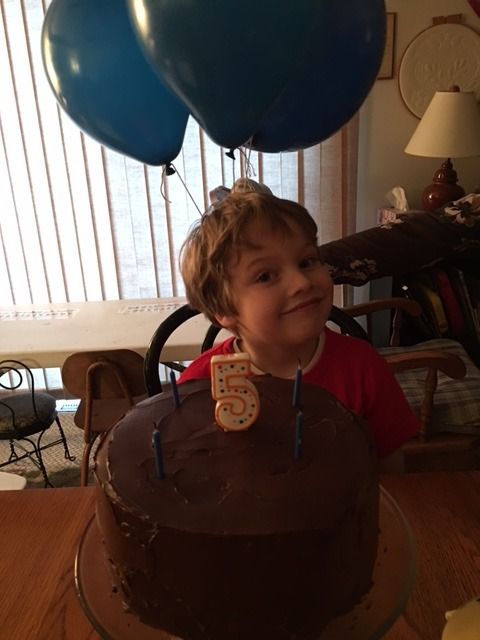 Last week Peter transformed from his former 4-year-old self to a brand new 5-year-old self! He's just as sweet and feisty as he always was but now it's takes a whole hand-full of fingers to show someone his age. This is pretty exciting.
Eliot wasn't sure what kind of cake he wanted though he knew that he wanted chocolate involved. I'd found a cake recipe on Pinterest that I was wanting to try I Peter is my banana bread junkie, so I made a Brown Butter Banana Cake with Salted Dark Chocolate Ganache. It was a hit.
Making wishes and blowing out candles is big work but Peter paused in his candle-snuffing to pose for a couple of shots.
Eliot was eager to help Peter open his presents. Peter was an excellent sport. Peter's no push-over and it's always fun to see them getting along well.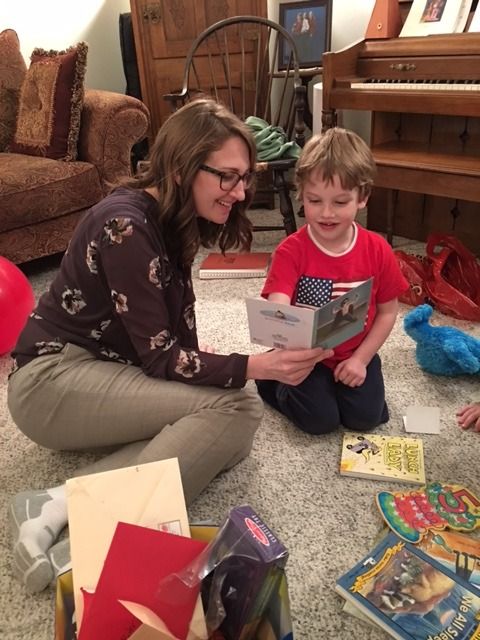 Peter was delighted with his gifts and cards. His reading skills are coming along and he was able to sound out a lot of the birthday messages.
Peter loves books. If you're going on a long drive and you need Peter to be quiet and good in the car, just hand him a copy of "Lunch Lady" or "Elephant and Piggie" or "Gollie and Bink" or any book that's new to him, and you're looking at a good 30 minutes of peace and quiet while he pours over the pages. I was home from work today and with Eliot attending his last day of school before Spring break Peter and I had the day to spend together. It was a yucky/sleety/snowy/rainy day so Peter I headed to the library. While we're their he likes to play with the Thomas train table and other toys but when we got home it was time to snuggle down with some of the books we brought home and have a good read.
Peter has also been working on expanding his List of Foods He's Willing to Eat. He's caught on to an idea that Eliot picked up from school that if he tries something 8 times he'll like it. This morning he announced that he likes everything, except casserole. Then he added that he has tasted casserole once so if he takes 7 more bites he'll like it! Did mention he also really likes numbers?
He's a sweet, fun little guy and we love him so much!