Earlier in the summer we had a hail storm come through the area. It damaged my parent's roof and siding and they had to be replaced (thank goodness for insurance). The roof was replaced first and it was a major event. The boys saw the roofers come early in the morning before they left for school and then they were picked up early from school later in the afternoon to watch them finish their work. Peter kept telling people that he would be a "woofer" when he grew up, until he saw them walking precariously along the eves, then he decided that being a "woofer" was a little too dangerous. Then, last week, the men came with the siding. Again the boys watched, starry-eyed, as the old siding was stripped away and the new siding put into place. Eliot was especially impressed with the calking gun. The men left some of their scraps for the boys to use in their own building projects and then I took Eliot out to get him his very own calking gun. He spent the rest of afternoon calking and creating.
It didn't take him long to get the hang of it. He informed me that the next time the siding needed to be replaced we wouldn't have to call in the professionals because he was ready and willing to do the job himself. So that's a relief.
Smoothing the calking with his finger just as he had seen the craftsmen doing. He's a quick learner.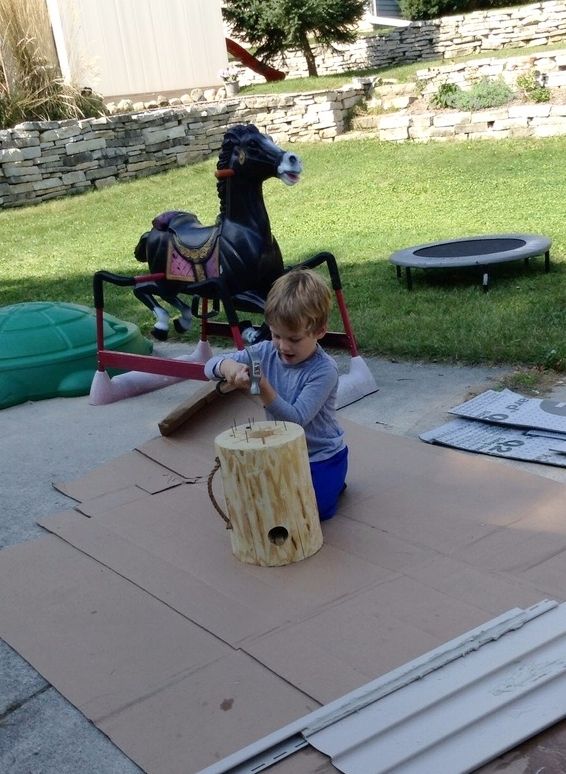 Peter got in the action too. Though the calking gun required a little more squeezing power than Peter could muster, he got busy with the hammer and drove several nails into the end of a fire log that had been purchased for that very purpose. I love my little handy-men.