Eliot and Peter have been enjoying these last two weeks together. Eliot has been out of school for a mid-term break and he and Peter have had a lot of time to spend together. It has been so fun to watch their friendship grow. The other day, after they had been playing in the other room, they came out to the kitchen for lunch and Eliot said, "Peter, you're the best Peter in the whole world. I love you." Peter said, "Oh." I told him to say "I love you too Eliot" and then he added, "I wuv you too Ewiot."
Peter is totally obsessed with trucks, and with garbage trucks in particular. Eliot has embraced this and it has become the central theme of their play. If they're playing trucks, they're hauling trash; if they're playing trains, they're hauling trash; if we go for a walk in the park with the stroller, they're hauling trash. They are always collecting "rubbish" from around the apartment which could include scraps of paper, magnets, small toys, dirty laundry, really anything they can get their hands on. This urge to throw things away will be very useful in the Major Purge that will precede our upcoming move. Already we've taken several trips to Good Sammy's and Salvo's where the donation bins look conveniently like garbage bins.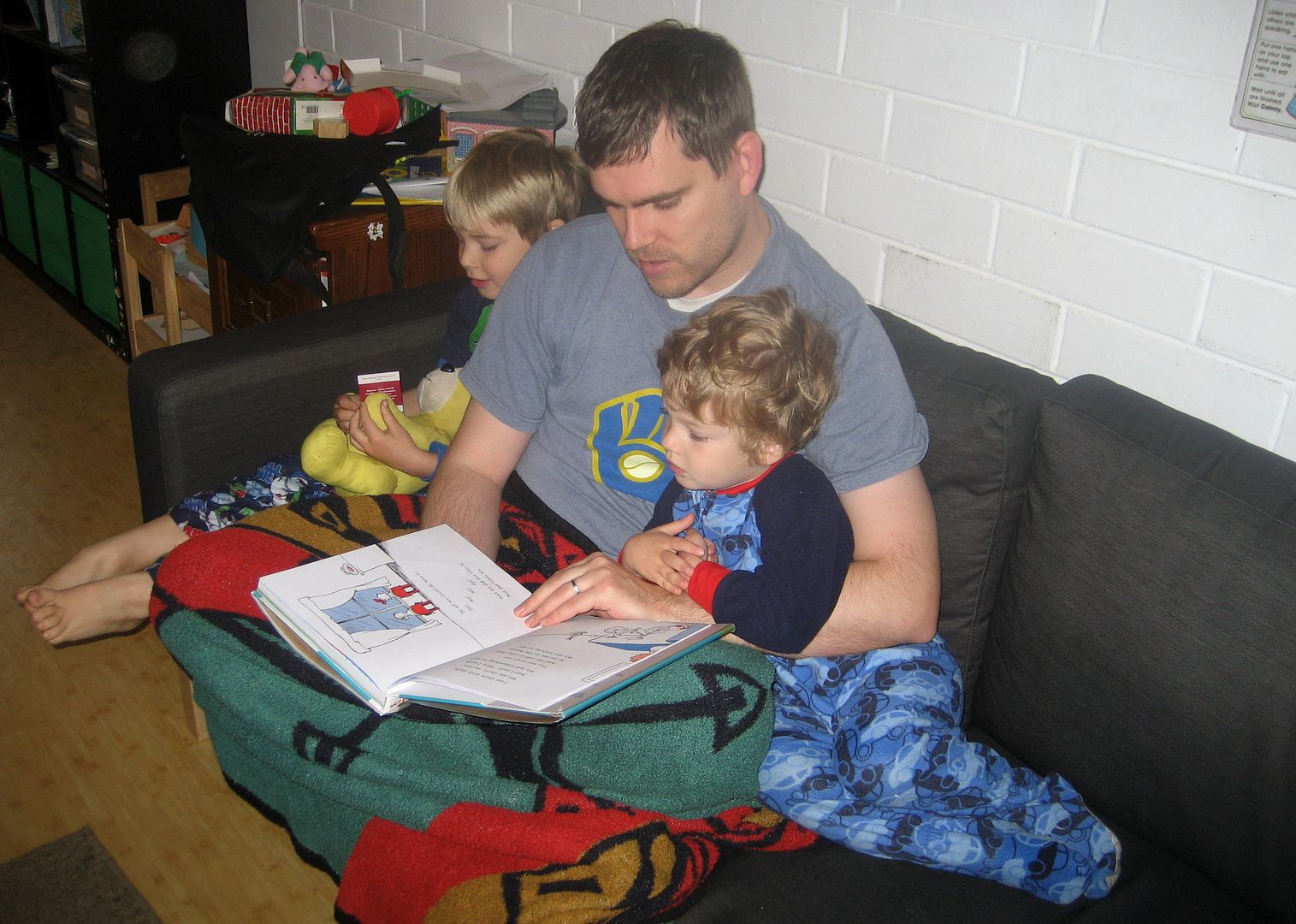 Stories and book-reading are still favourites. Over the break we went to the library and found that in the kids' section they had put up a huge cardboard castle. There were markers that children could use to decorate the walls along with nooks and cubbies where cushions had been placed for some comfy and secluded reading. The boys had a great time and chose several books to read in the castle and take home with us. Both boys like to cuddle up to read. Peter is especially insistent and will order us with a commanding, "Snuggle me!" before any story begins.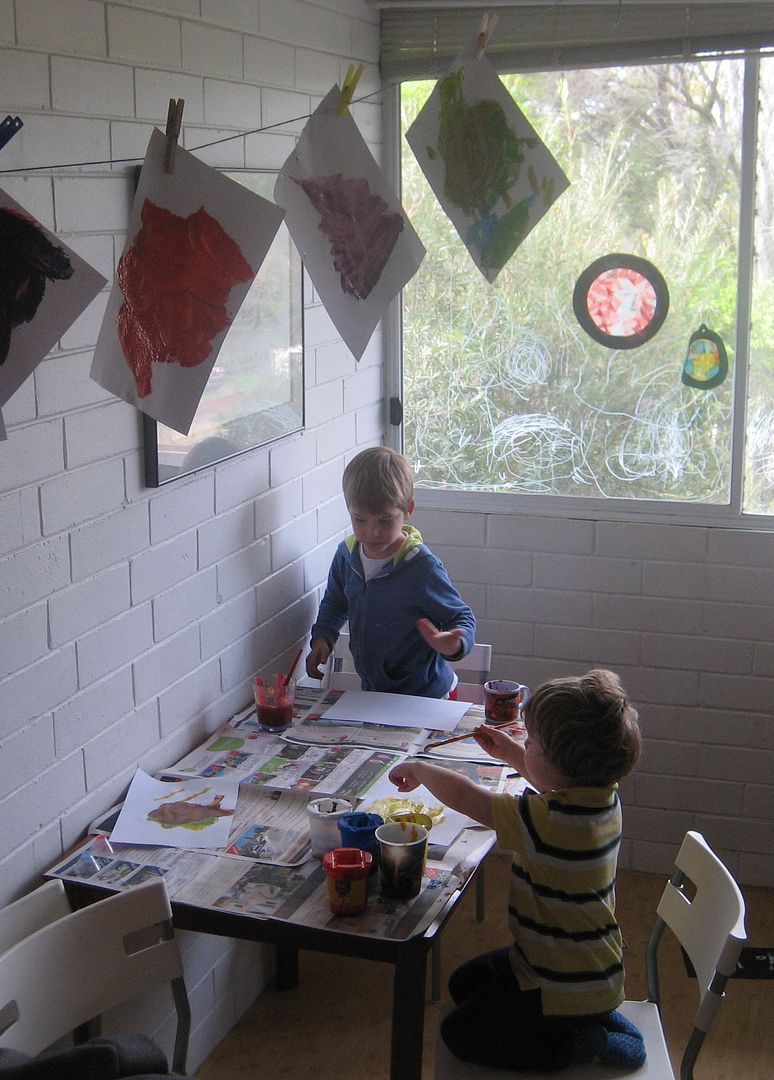 Enjoying a little artsy afternoon on a rainy day. Eliot has been learning about primary and secondary colours in school and they were having a good time mixing the colours to see what they could make.
Peter has been introduced to the fun of a "close shave."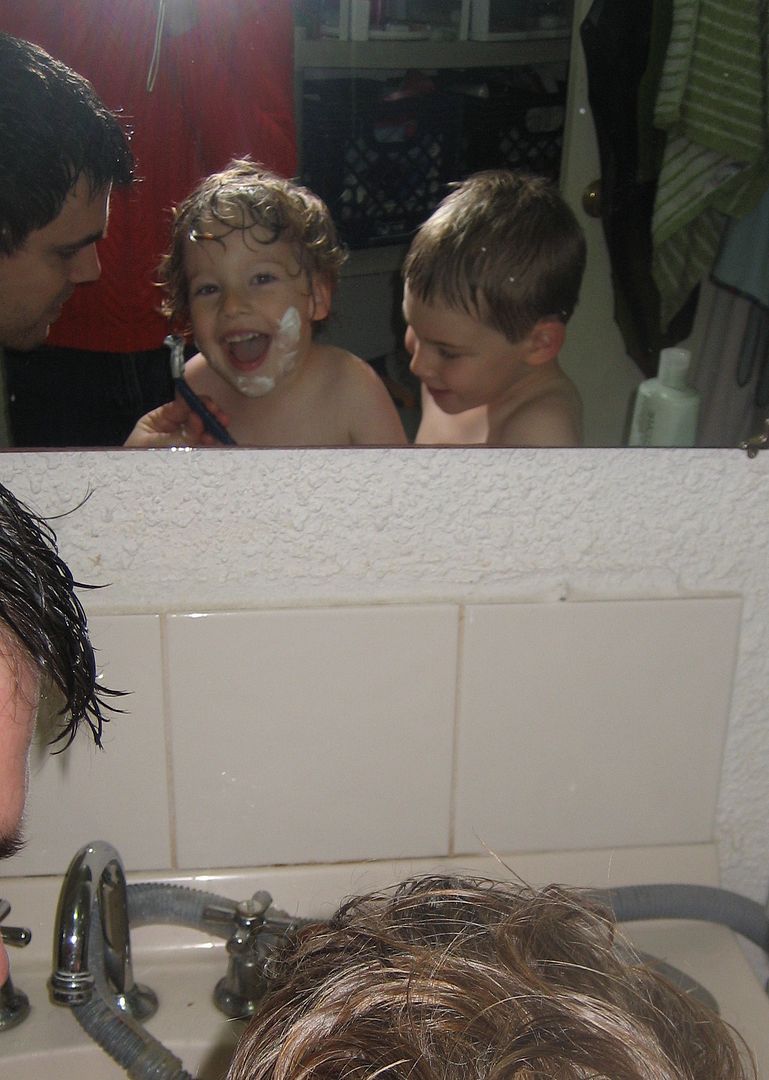 Eliot, always the attentive big brother, was delighted to show Peter how it's done. Peter thought the whole thing was unspeakably hilarious.